Anouschka Shines In Kenya
When Anouschka's mother called to say she'd bought a vacation home in Kenya, Anouschka had no idea how profoundly that would affect her own music. The Berlin-based, Swedish-American singer/songwriter was no stranger to international influences, having grown up around the world in a military family. But the energy in Kenya was palpable, and in no time Anouschka was penning inspirational songs like her new single "Shine," even singing in Kishwahili. 
"I don't write music that comes from any specific faith. What I've found is that the songs created in Kenya come from a place of faith because of the energy there," she says. Working with her mother's foundation which pays school fees for impoverished children, Anouschka got to know a diverse range of locals. She also met a producer who loved the easy, hopeful feel of her music. "The fifth year I was there I met a producer and he invited me to come work with him in Nairobi. He was a gospel producer, and I was the only non-gospel artist he worked with." Anouschka remembers the recording experience in a studio in a ghetto area outside Nairobi.  "Some days we had electricity, some days we didn't. One day, main sewer had broken in the street below. We couldn't do anything for hours because it smelled so bad. There were goats walking by. The village drunks were sitting outside drinking whiskey and grunting and having arguments all day. It was not my ideal recording environment, but I wouldn't trade it for anything."
The singer/songwriter has always been curious about other cultures, believing that people are more alike than different. "I was trying to write songs that would appeal to a Muslim or a Christian or any other faith. I wanted it to be family-friendly since everything is so hyper-sexualized. And I just wanted it to be positive," she says. "Shine" is one such song, an up-tempo number. It is dedicated to unseen heroes and delivered with an audible smile. Anouschka's optimism is palpable as is her love for the Kenyan community that took her in. "I wrote these songs in Kiswhaili because I wanted to honor the people," she says of her choice to write bilingual songs. 
The new "Shine" was produced by House of Dillie. Anouschka did a media tour for "Shine" in Kenya in 2019 and has performed the song at Canadian and French festivals. She's promoting the single in the United States now because that's where she "felt it needed to go." The song's message of hope has never been more timely. "I looked at all the horror stories around me and I realized it was because people weren't shining. When you shine, you're generous. You're benevolent. You're compassionate. We've come so far from compassion, I knew that was where the song needed to be."
She hopes her music will resonate with everyone who's struggling, whether they're in Kenya or the United States or anywhere else at all. Not because she wants the acclaim but because she feels a need to contribute positivity to the world. "My songs from Kenya are not just written for me, they are written for the world. I hope this song tugs at people's heartstrings and makes them open up a little more," Anouschka says.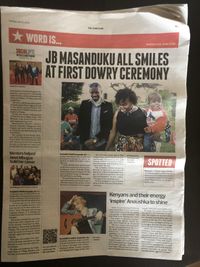 Kenyans and their energy inspire Anouschka to shine
Swedish-American singer Anouschka is set to perform at the showcase in France through EMG (Entertainment Music Group, Canada) and release new songs in the USA.  "Since I'm performing, I'll also say a few words about Kenya, how I've been inspired by the energy and people of this country" she told Word on Tuesday. The singer is currently promoting her song |Shine| which has also been inspired by Kenyans. "The new version of it is inspired by the unsung heroes in the society, their strength and resilience struck me. I write music that is uplifting. I'm very spiritual about how I write my music." She said."I wanted to make a song that was meant to inspire and touch lives.
Last year, I was watching a beggar in the streets and I thought, those people have a light. Why are they so invisible, and why do we close our eyes to such people? They just want to shine too."
Through the years, Anouschka has gained international recognition. She began her journey when her Swedish grandmother gave her a guitar at the age of 13. She taught herself to play and began writing. As a teenager, she was the lead singer for an all-girl rock band in Sweden.
"I have also been invisible, and as a woman, I have been in situations where I have felt discriminated against and not even given the right to present myself," Anouschka said. "An example of that was when I wasn't given a chance to perform at a jam session because I'm a woman with the guitar, and the guy was like "women can't play guitar". That as four years ago in Germany."
Insyde Magazine, East Africa